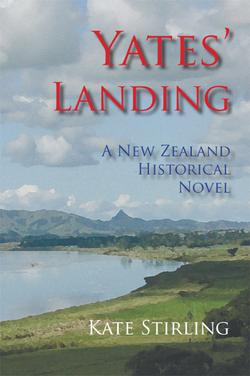 When Chloe Mainwell, the pampered only child of an ambitious British politician goes to France for her debut into society, she discovers life to be far more unbelievable than she could ever have imagined. After marrying 'under a cloud', her arrival in New Zealand at the turn of the 20th century leaves her in no doubt of how different, or how difficult, life can be. Yates' Landing is a romantic novel set on the Kaipara Harbour against a background of historical events such as Women's Emancipation, Halley's Comet, the sinking of the Titanic, World War 1 and the influenza epidemic which devastated much of the country. The Whangarei-born author has captured the essence of a fascinating district and its place in New Zealand history in this, the first of three books set in the north.
Extract From Yates Landing:
1895
In the gloom of a London bedroom, a deep voice rumbled softly.

'I wish you would reconsider. I am unhappy about her going to Amee. Surely she could do as well here in England?'
'Now Charles, we have been through all this before. I think you are making mountains out of molehills.' Edwina thumped her pillow into a more comfortable shape. 'Unless you can tell me positively why you dislike Claude, she shall go.''

I wish I could tell you positively, Edwina, my dear, but I don't know exactly. I only remember it was something unsavoury.' A candle glowed to life and Edwina sat up abruptly,'Rumours! Surely you are not going to hold her back because of rumours from so many years ago. His daughters are said to be delightful; and I understand Rolf is about to finish at the Sorbonne. Claude cannot be too bad if he can produce such clever children. Besides, it's all arranged.''Could she not go to your sister Sophia's? ''

Good heavens, NO!' Sophia has no more idea of bringing up a daughter than flying to the moon! All she can think of is her paintings, her arty friends. As for that sculptor husband of hers – well! Sophia should be ashamed of herself for allowing such goings on with a vulnerable child in the house.''I did not think she was all that bad. After all, there are some very artistic people who. . . ''We don't want to expose Chloe to that influence; all those live artistic models; 'cousins' he calls them, as if anyone believed such nonsense and Annabel spends all her summers at some beach with goodness knows what types. No, definitely, she must go to Amee! ''No good will come of it, I just know it.' he muttered, 'Why must you be so. determined?''Anyone would think she was going away forever! Now, really, Charles, stop making a fuss and go to sleep.'

He sighed and tried to get his mind back to the meeting he had attended that evening. As he began to doze off Edwina mumbled, 'You will have to escort her to France. I can't spare Vera and there is no-one else. ''You know I hate sea travel!''Surely you don't mind doing such a little thing for your own child, Charles! When I think of all the time I have spent getting things organized for her.'
Charles burrowed down into the covers, already defeated by her clever way of putting things.